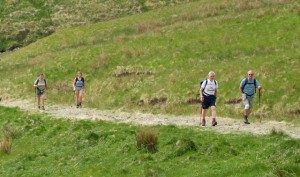 Every Year Moffat Mountain Rescue Team holds its Charity Challenge somewhere in the Dumfries and Galloway countryside. There are 4 walks to suit all abilities. The team marks them and marshals them to keep everyone safe.
We ask for the entrants to pay an entry fee and raise some sponsorship for Moffat Mountain Rescue Team. Any remaining sponsorship can be raised for any charity you choose. In return you get a choice of one of the 4 walks, transport to and from registration (if required), a commemorative T Shirt specially designed for the day and a lucky dip of Scottish weather!
Follow our links to find out more about this year's challenge, see the walks and download the application form.
We all look forward to seeing at the challenge!
If you have any questions please contact us.