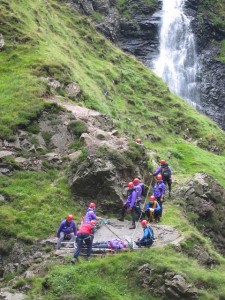 To maintain skills, team members attend regular training. The training calendar consists of approximately 1 full day training and 1 evening session per month.
The training ensures team members have the opportunity to develop and practice core skills including;
Teamwork
Navigation
Communication and radio skills
Search techniques
Ropework and rigging
Stretcher work
First aid and casualty care
Swift water rescue
Winter skills
Night searches
Training exercises are often realistic Mountain Rescue Scenarios, enabling the team to practice their core skills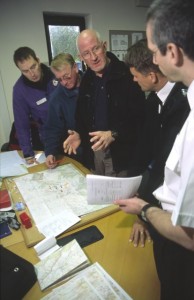 Annually, we hold a 2 day joint exercise with neighbouring teams and Police Scotland, enabling us to practice larger scale searches and link with other teams.
Team members also regularly attend national training courses and conferences (in association with Scottish Mountain Rescue) to develop and bring back specialist skills, ensuring the teams skills stay up to date. These courses have included, avalanche training, technical rigging etc.
Probationer training is offered for all new members in addition to them attending regular team training. Probationers will usually train for year prior to being added to the call out list. If you are interested in joining the team please contact the secretary – Click Here