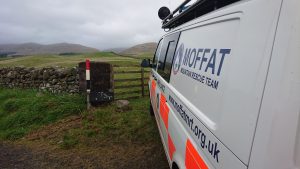 2019 is the 50th Anniversary of Moffat Mountain Rescue Team. The team has events planned throughout the year to celebrate 50 years of supporting the local community in Moffat and further afield in Dumfries and Galloway.
Many of these events will be open to you to get involved and range from a Burns Supper, dinner dance, charity walk and open day. Our full schedule will be available soon.
50th Anniversary Schedule So Far
If you are interested in any of our 50th Anniversary Events please get in touch via our e mail address secretary@moffatmrt.org.uk
23 January 2019- Burns Supper at the Annandale Arms in Moffat– Price £25.00
Immortal memory by Jane Brown.
Toast to the lasses by Willie Dick, reply from Fiona Evans.
Songs by Leona Evans
Poems by Bobby Jess
This is shaping up to be a great night with tickets going fast, there are still a limited number available so get in touch soon if you would like to come
31 January 2019- Free Solo at the Robert Burns Centre in Dumfries– Price £4.60- £7.00
Purchase tickets online via the Robert Burns Centre
Elizabeth Chai Vasarhelyi / Jimmy Chin | USA | 2018 | 100m (film) + 30m (Q&A) | 12A
'Free Solo' is a stunning, intimate and unflinching portrait of free soloist climber Alex Honnold, as he prepares to achieve his lifelong dream: climbing the face of the world's most famous rock… the 3,200ft El Capitan in Yosemite National Park… without a rope or safety gear. The film will feature a recorded Q&A with climber Alex Honnold.
Contains infrequent strong language.
Screening to celebrate the 50th Anniversary of Moffat Mountain Rescue Team. Moffat Mountain Rescue Team has been coming to the aid of walkers, climbers and members of the local community, from toddlers to the elderly since 1969. The Team is a registered Scottish charity (No.SCO07510) and continues to rely on the generosity of individuals and companies to maintain equipment and fund training. If you would like to make a donation to the team, please go to their donation page: https://moffatmrt.scottishmountainrescue.org/donate
Base Open Day April 2019
We are working on the exact date for this but be prepared for a great day with a full tour of the Mountain Rescue Base and all our equipment. There will be stalls and demonstrations throughout the day.
The Anniversary Challenge -Saturday 8th & Sunday 9th June with special event walk
We are working on the details for this exciting weekend at the moment. We will have the usual Walk 1, 2 and 3 but Walk 4 is going to be something special….. The whole length of the Annandale Way starting on Saturday 8 June in Annan and Finishing in Moffat on Sunday 9 June.
There will be a walkers entry starting early on Saturday morning. We will bus you from Moffat to the start in Annan and then help you on your way to an overnight camp near St Anns Bridge. On Sunday you will finish in Moffat at the Annanwater Hall and celebrate your achievement with the team and the walkers from Walk 1,2 and 3
We are also planning an Elite Entry for adventure athletes who would like to take on this challenge in one continuous run! Again we will bus you to the start and provide safety cover and refreshments along the route.
If you are interested please get in touch!
Moffat Show – Saturday 25th August
Come and say hello to the team at our stand at the show
50th Anniversary Dinner Dance Saturday 16th November in Moffat Town Hall– Price £35.00
This will be our final big celebration of the year with a formal sit down dinner, after Dinner Speech from Mick Tighe (Formerly with Locaber MRT) and the fantastic band led by Grant Dinwoodie