Walk 3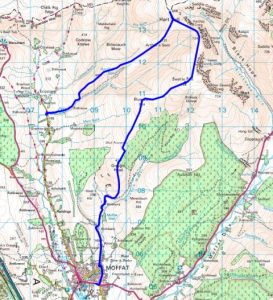 Strenuous hill walk from Moffat Base to Hart Fell descending via Arthurs Seat.
Distance 16.5Km Ascent 785m
Registration Moffat Base from 09:00 until 10:00
Leaving from Moffat Base heading east along the Selkirk road turn left into Ballplay Road at the end of which turn right into Well Road and follow it all the way to Blaebeck. Continue following the markers along the track and then onto the open hill heading towards the summit of Greygill Head from here the route follows the boundary fence and wall taking in the summits of Blue Cairn and Swatte Fell, after passing Falcon Craig begin the final ascent to Hart Fell summit. From here head down over Arthurs Seat then continue following the ridge then along the track back to Annan Water Hall from where you will be collected and transported back to Moffat Base.