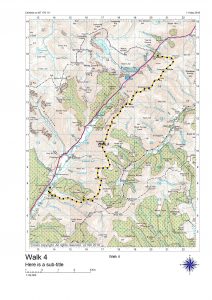 Walk 4: Challenging walk along the south easterly ridge of Moffat Dale then on to the summit of Capel Fell.
Registration from 08:45 until 09:30 at Moffat Water Hall grid ref NT 140 086
Parking- Selcoth fish farm grid ref NT 138 078
(transport to and from Moffat Water Hall will be provided)
Distance – 17.5Km Ascent – 815m
The walk begins along the same route as walk 3, to where the boundary fence meets the landrover track at grid ref NT 173 095. At This point the routes split, due to to the challenge nature of walk 4 we request all walkers who wish to complete this route to have reached this point by 1300 hrs, to ensure they have enough time to finish the route comfortably. Those arrive at this check point after this time will be directed onto the walk 3 route.
From this point the route follows the boundary fence on toward White Shank before continuing on along the ridge and eventually reaching the summit of Capel Fell. From here the route descends to the forest track which it follows for a short distance before ascending Broken Back then following the ridge in a north westerly direction and descending down Selcoth fish farm where transport will be available to take you back to the hall for refreshments.