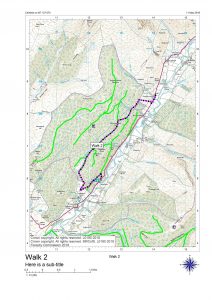 Walk 2: Marked walk through Craigieburn Wood with scenic views of the Moffat Water Valley.
Registration from 09:30 until 11:00 at Moffat Water Hall grid ref NT 140 086
Parking – Moffat Water Hall Distance – 5Km Ascent – 208m
After being transported from Moffat Water Hall to Cragieburn wood the route winds gradually uphill through mature woodland on forest roads and tracks. Excellent views of Moffat Dale can be had at several points along this route. After emerging from the wood the route descends through fields to Roundstonefoot, from here it is a short distance back to the hall for refreshments.