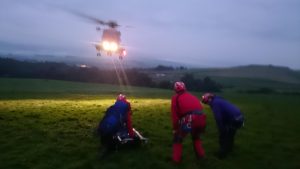 Moffat Mountain Rescue team was called by Police Scotland at 0245 on 15 September to
reports of a 17 year old boy who had fallen into a gorge and sustained a broken leg and ribs.
Both the Ambulance and a rescue helicopter from Prestwick (Rescue 999) had been unable
to reach and rescue the boy due to the steep gorge and thick trees.
The helicopter lifted 4 members of Moffat Mountain Rescue Team from Moffat along with
technical rescue equipment and flew them to the scene. More team members followed by
vehicle to the remote farm near Sanquhar.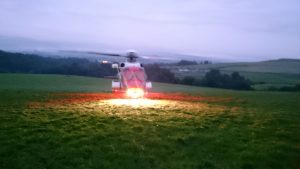 The team set up a technical lower to get a stretcher to casualty who was now being attended
to by the winchman paramedic from the helicopter and a member of the Scottish Ambulance
Service.
Once the casualty was safely in the stretcher and stablised the team raised the stretcher up
a steep gorge and then carried the stretcher to R999. The helicopter then flew the casualty
to Dumfries and Galloway Royal Infirmary.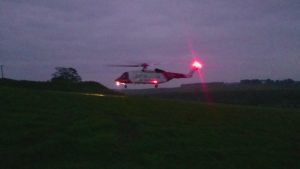 James Coles Deputy Team Leader of Moffat MRT said "The casualty was in a difficult to
access area in a steep gorge. The extraction of the casualty involved setting up rope
systems to protect the stretcher and the team for a tricky rescue in the dark. The team
worked with personnel from Police Scotland, Scottish Ambulance Service and the rescue
helicopter to achieve a safe rescue of the casualty. We hope he makes a speedy recovery in
hospital"